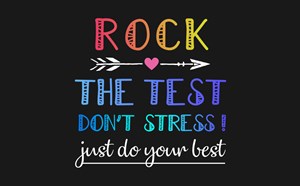 Students will be taking the California state Test, referred to as the SBAC test, in ELA and Math from May 13th - 24th. Let's work together and make your child's experience a positive and successful one! Here are some suggestions you can do to help everyday: Ensure your child arrives at school on time. Have your child eat a healthy, protein-rich breakfast at home or at school. Ensure your child gets a good night's sleep. Write a note of encouragement and put it in their backpack or lunch. Encourage them to do their best, take deep breaths if they get anxious, not to give up on the really tough questions, and let them know that no matter what the test score is, that you are proud of them!
Principal's Message
Dear Stanford Families,
It is my pleasure to welcome all of you to the 2019-2020 school year! I am thrilled to be heading into my third year as the principal here at Stanford.  I hope that all of you have had a wonderful summer break and made some special memories with family and friends. I look forward to hearing about them when students return on August 28th.  On a personal note, my family has had a very fun and busy summer. We enjoyed some local getaways and day trips. My son will be starting first grade in just a couple of weeks. It's hard to believe how quickly the time goes! 
Like all the wonderful schools in GGUSD, we will be continuing to focus on our District Goals: Academic Skills +  Personal Skills = Lifelong Success!   Our academic program is rigorous, engaging, and aligned to the state standards.   Our amazing teachers use research based strategies to develop students' critical thinking skills, including the meaningful use of technology in instruction,  learning how to collaborate and work in teams, and help students develop scholarly habits and motivation. As a staff, we are committed to 21st Century Learning to best prepare students for a successful future.   We understand that academic ability alone will not bring success and we must educate the whole child.  It is a priority at Stanford to support the social-emotional well-being of our students, as well as helping them to become caring, responsible, and global citizens.
NEW FOR 2019-2020
This year, GGUSD is partnering with ParentSquare to expand and improve parent communication.  Beginning in August, ParentSquare will replace SchoolMessenger as the district's platform for all communication between the school and family. ParentSquare is a robust platform that provides district staff, school administrators, and teachers with a whole host of tools to more effectively communicate with families and students.  Please make sure that we have your updated and current phone numbers and emails, so you can stay informed on all school information. 
To support our focus on STEAM Education (Science, Technology, Engineering, Art, and Math) at Stanford, we are going to be opening a STEAM Lab! Our goal is to create the STEAM Lab over the coming months and open it in January.  The space will be used during the school day and after school to support state standards and emphasize collaboration, communication, research, problem solving, critical thinking, and creativity at each grade level.
CONTINUING PROGRAMS
Our teachers and staff will be continuing to prioritize Character Development, with a focus on a specific Character Trait each month.  We are excited to have 9 teachers who will be trained in AVID, and we are actively creating a College Mindset in all our students from TK - 6th grade!  Some of our other continuing programs include Academic Pentathlon, 100 Mile Running Club, Student Council, College and Career Mentoring (a program for 6th graders developed by our Superintendent, Dr. Mafi), Striving Scholars (mentoring program with the principal for students in grades 3-6), field trips at every grade level, educational assemblies, and excellent Vocal and Instrumental Music Programs!
As your principal, my door is open and communication with the community is my priority!  I will be continuing with our Pastries With the Principal gatherings and communicating through ParentSquare, the school website, and our social media. Our school office team is always here to help, as well.   
Please register and update your Parent Portal account. Through the use of Parent Portal, parents have the ability to be notified of their child's new teacher, update student emergency records, print their child's report card, and download important documents directly from the portal.  Also, a reminder that we are a Closed Campus to support student safety and campus security.  Please make sure you check in at the office before entering campus.  Thank you for your continued support!
It is my pleasure and honor to work alongside you and with our wonderful students as they continue towards academic and personal success!
Sincerely,
Mrs. Melanie Mathovich, Principal
Our School
Welcome Stanford families!
Stanford is a PBIS school that strives to create a positive class climate for our 524 students! To promote a positive campus-wide culture, our highly-trained teachers give out RED (Respect, Everyone cares, Do our best) tickets to students who show good behavior. Every Monday morning, one student per grade level is selected to come to the front office and receive a prize! Our scholars grow motivated to exert phenomenal behavior every day.
Our after-school programs provide students with enriching educational and extra-curricular opportunities:
Our Beginning Guitar Program is taught by our Visual and Performing Arts teacher and teaches students the basics of guitar in a fun and exciting way. The program culminates with a recital. Students can show families and their community the impressive skills they acquired through this enrichment program.
Stanford has an AVID Program that serves as an early college preparation course for students. What makes Stanford unique is that it is one of the seven schools in the district to implement the AVID Elementary Program. By the end of the program, scholars will have learned effective note-taking and study skills.

Our 

Academic Pentathlon consists of scholars who challenge themselves in subject areas such as English, Math, History and Science. They compete with schools in the district and county, exerting the importance of collaboration and critical thinking one competition at a time!
We are proud to announce that Stanford received the 2018 California Distinguished School Award and was named to the 2018 California Honor Roll! Stanford was named a California Gold Ribbon School in 2016. We would like to thank our students, teachers and staff for giving it their all every day. Keep up the amazing work!
Our yearly events are a great opportunity for students and parents to enjoy a sense of school community.  Events include: 
Fall festival

Winter Breakfast and Holiday Social

Winter boutique where students and parents come to purchase unique items

Jog-a-thon

Kids Run the OC

Monthly Pastries with the Principal

Skate Night sponsored by the student council

Festival of Friendship celebrating Tet

Hour of Code - teaches students coding

Monthly Spirit Assemblies organized and led by Student Council
Our dedicated parents have an outstanding PTA program that helps with assemblies, events, fundraisers, field trips and classroom volunteering. Participants meet monthly to communicate and collaborate on organizing engaging events for all students. Parents can become involved by reaching out to teachers, the office, or other PTA members. 
Please feel free to stop by our office for questions or concerns.